Today we are sharing how to install board and batten AKA wainscoting. In the past few weeks we have been working on giving a little facelift to our powder bathroom and that included board and batten. We just shared our living room details if you want to see them here!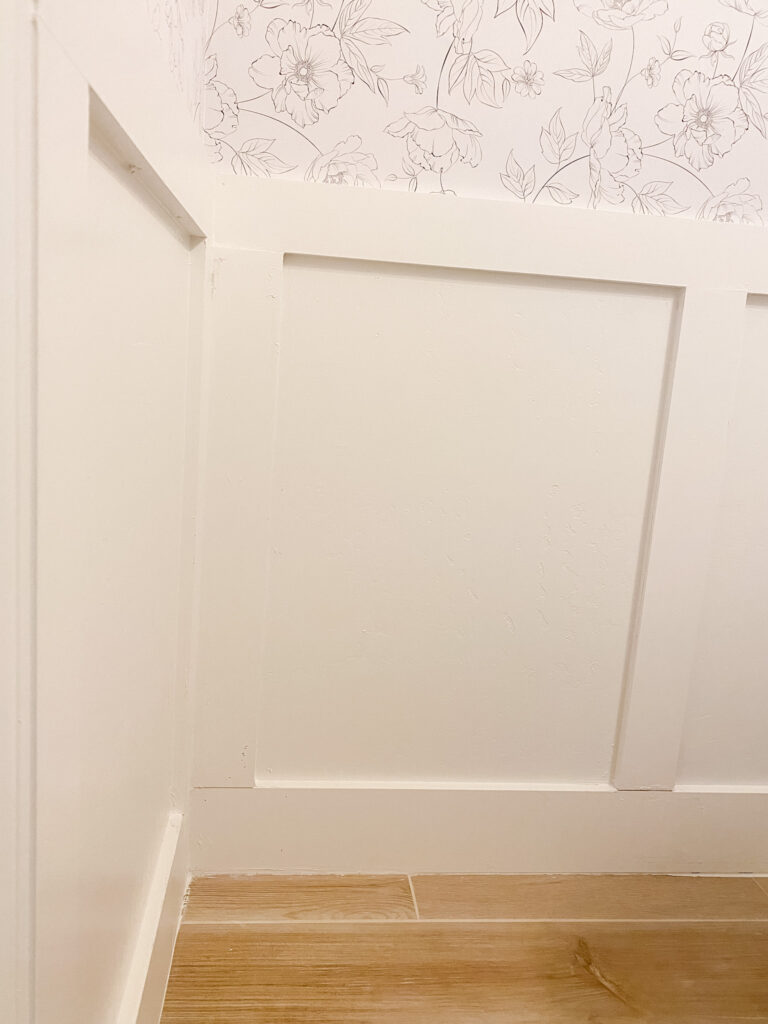 If you are adding wallpaper, I suggest doing that first to save the trouble of trimming later. (Here is the wallpaper we used!) Just make sure that you have measured where the wallpaper will end and the board will begin.
Materials
Primered Pine wood 1×4 boards
Base board 1×8
Wood filler
Calking
18 gauge brad nailer
Sander
Paint
Leveler
Step One
Measure all walls to determine how much linear footage of wood you would need. So, you need to know how long each wall is and decide how high you want the board and batten to go for the vertical boards in the middle.
For our wall height, we decided to have the wainscoting start at about 1/3 of the way. Our walls in this room are about 9 ft tall. We also took into account where the sink started. I didn't want them to match up *perfectly* so we made them a tad off.
Step Two
First you need to prep your walls. Tear out your base boards and use a scraper to get rid of old caulk.
Cut and lay the base board first, using a level to make sure the boards are level to the ground.
Brad nail every foot, starting from left edge, right edge, then middle. Do this on the top and bottom of the board.
Repeat with top boards at the height you want.
Step Three
Now do the middle boards- determine how you want to space them. We had a small room so we could not space them exactly how we wanted to. We honestly just eyed it. If you are doing a bigger room or a straight wall, you can measure them to space out evenly.
Step Four
Fill in holes from the nails with caulk or a wood filler. Caulk all the seems, using painters tape on the floor to get a clean line. After that dries, sand the excess off and wipe away any debris to prep for paint.
Paint- we used Sherman Williams Alabaster and I love how neutral but warm it is. I will share more pics in the reveal.
If you have ANY questions, let me know in the comments… Stay tuned for the final look! I will share next week.
xo – Shay