Homemade biscuits are such a good staple to have in your recipe book for breakfast or brunch. You can make these biscuits with gravy, for a classic strawberry shortcake or just plain with butter and jelly! These are best served warm; you just can't beat a homemade biscuit straight out of the oven.
There are so many variations for biscuits, you can use shortening instead of butter but I prefer mine made with butter. Shortening does make them stand a bit taller though so that is an alternative you can try out. Also, we like buttermilk with ours, I love the flavor it adds.
You can make the dough ahead of time and freeze them for later or refrigerate them over night before and just pop them in the oven the next morning. Here is the recipe for strawberry shortcake. If you do make these for dessert, I add a bit of sugar on top before popping them into the oven. Otherwise, just put the egg and buttermilk.
Here are the steps to making them.
First, but your butter into the freezer for a sec to make sure that it's extra cold!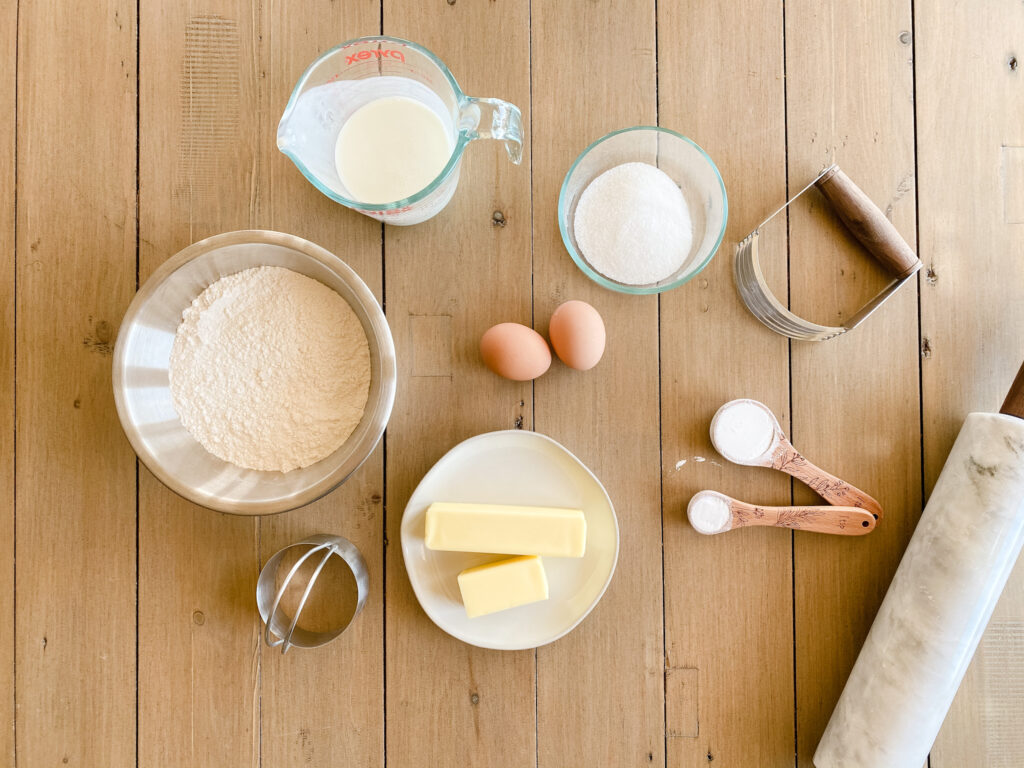 Combine all of your dry ingredients, and grate the better on top of the dry ingredients. After that, just stir the butter and the dry ingredients together gently to coat the butter.
Next, stir in the egg and then add the buttermilk slowly and stir in between each pour. You do not want this to be too dry or too wet. You want them to be a bit sticky but not hard to pull away from the bowl.
Leave the dough in the bowl and cover, put the dough in the fridge. You can leave this in the fridge for up to 24 hours before, so if you want to make this ahead of time and pop them in the over the next day when you're ready to eat them.
Pull biscuits out of fridge and powder surface and hands. Lay out dough and press flat with hands until about 1/2 inch thick. Using a round cutter, cut about 10 biscuits. Top with buttermilk and egg before putting in oven. Let cool for a couple minutes. These are best straight from the oven! Throw some butter on there and eat before it gets too cold. Enjoy, friends!
Print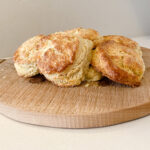 Homemade Biscuits
---
Author:

Prep Time:

15 minutes + 30 minutes rest

Cook Time:

15 minute

Total Time:

1 hour 45 minutes

Yield:

10

1

x
Description
Homemade biscuits that are soft on the inside and crispy on the outside. Perfect for biscuits and gravy or for a classic strawberry shortcake. Make these ahead of time and freeze or the night before and pop them in the oven the morning of.
---
Scale
Ingredients
2 cups flour
4 Tablespoons sugar
1 Tablespoon Baking Powder
1 Teaspoon Baking Soda
8 tablespoons Salted Butter grated or cut into small cubes
¾ cup buttermilk
2 eggs
---
Instructions
Stir together the flour, sugar, baking powder and baking soda in a large bowl.

Add in the grated or chopped butter and stir to lightly coat butter.

Beat 1 egg and add it in to mixture.

Begin adding the buttermilk mixing between each pour, if you feel like it's too dry add a tablespoon more at a time. The dough should be sticky but not too wet.

Cover the bowl and refrigerate for 30 minutes or overnight.

Preheat your oven to 400 degrees.

Flour surface and lay dough out.

Using your hands, flatten the dough until it's about ½ inch thick.

Using a round cutter, begin cutting the biscuits and laying them out on a sheet, allowing them to touch.

Mix 1 egg and 1 tablespoon on buttermilk and brush the tops with the mix. Optional:sprinkle 2-3 tablespoons of sugar on top.

Place in oven for about 15 minutes or until the tops are golden brown. Do not overcook them, the best biscuits are soft on the inside and crispy on the outside.
Keywords: Breakfast Biscuits Homemade