Have you ever heard of an ebelksiver? They are basically a Danish pancake ball that the Danish make every Christmas. They are light, fluffy and you can put filling in them or just bake them plain. Traditionally, the Danes eat them plain with raspberry jelly on the side. I have also seen people fill them with Nutella, apple filling, lemon curd and many other things. You can get as creative as you'd like!
We like to make them with raspberry filling and plain, served with syrup on the side. We make them every Christmas morning for breakfast. It is a family tradition that will be passed down which makes it that much more special.
You will need a special pan to make them this one is from Amazon and a good price. We got ours from William Sonoma but want to invest in a nicer one like this soon.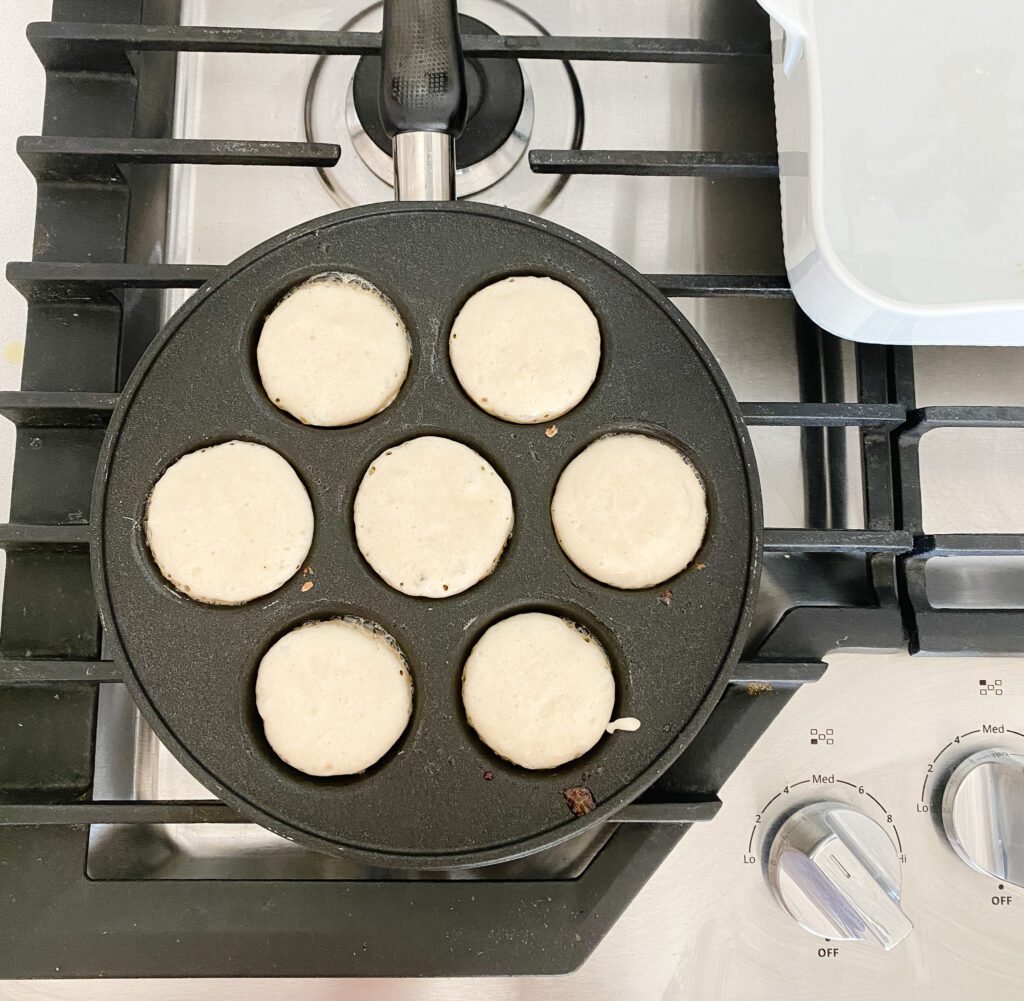 After putting buttering the wells, fill each well about 3/4 of the way. If you want to add jelly now is the time, then and add a bit of batter on top after.
Once they look browned, you can either flip them 180 degrees or flip it 90 degrees at a time. Flipping it 90 makes it rounder and bigger but it does take a bit more time. Just add a little more batter when you turn it.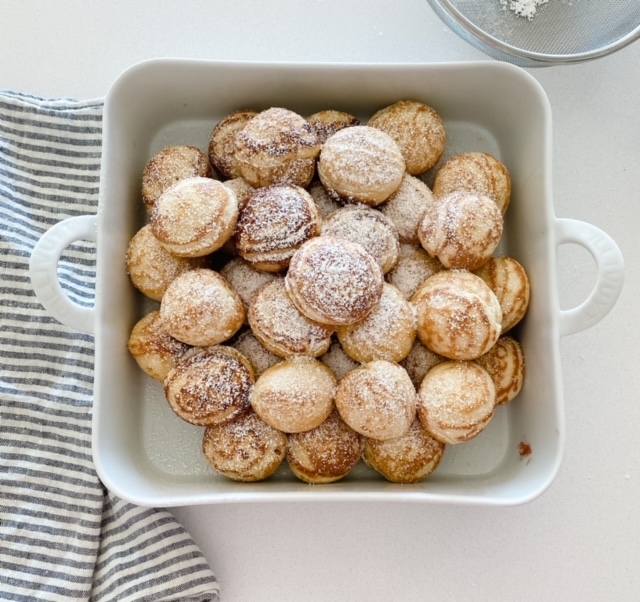 Viola! There ya have it, they seem much more intimidating than they really are I promise. To me, this is such a fun Christmas tradition and not just a normal pancake. Click below to save this recipe for later!
Make sure you check out my Apple Crumble Pie for the holidays too!
Print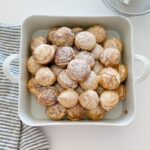 Ebelskivers (Danish Pancakes)
---
Author:

Prep Time:

15 minutes + 30 minutes rest

Cook Time:

1 hour

Total Time:

1 hour 45 minutes
Description
Ebelskivers (also spelt Aebelskivers), a danish pastry that's a mix between a pancake and a donut. They are light and fluffy and our family makes them every Christmas morning.
---
Scale
Ingredients
2 cups

buttermilk

2 cups

flour

2

eggs, separated

2 tablespoons

sugar

1/2 teaspoon

salt

2 teaspoons

baking powder

1/2 teaspoon

baking soda

4 tablespoons

butter, melted

3 tablespoons

butter, melted for cooking
---
Instructions
Separate the egg from egg yolk, setting egg whites aside until later. Whisk egg yolks and sugar together until creamy.
Sift together dry ingredients then gradually stir into buttermilk. Stir in 4 tbs of melted butter and rest for 30 minutes to let the baking powder make the batter nice and fluffy.
Beat egg whites until stiff and gently fold into batter just before cooking.
Place Ebelskiver pan over medium-high heat and melt butter in microwave. Use a pastry brush to coat the wells of pan with the melted butter.
Spoon batter into each well until 3/4 full. If you want to add jelly in the middle, add a bit less batter and add a small amount, topping it with just enough batter to cover the jelly. Cook until the edges look brown. Using a knitting needle, fork or skewer turn the pastry. You can either flip it 180 degrees, all the way over to the other side, or for more of a round pastry, you can turn it 1/4 at a time and add more batter as your turn. 
Sprinkle some powdered sugar on top and serve.These are so fun and can be served so many ways! Serve with a side of jelly, syrup, sautéed apples, or even nutella. 
Keywords: Breakfast, Pancake, Danish, Scandinavian, donut, holiday, Christmas